Click for printable map of Virginia
(Browse all the other World Maps.)
Map of Virginia links to other maps
Downloadable
Blank Outline Map – A printer-friendly document.
Roads – The Virginia Official Transportation map in a PDF document.
Roads – You can zoom in and print your own maps at a large scale.
For purchase
Virginia Of Interest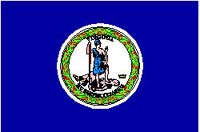 The site of the first permanent English-speaking settlement in North America was at Jamestown in 1607. Virginia became the largest, most populous and prosperous of the original 13 colonies. British forces under General Charles Cornwallis surrendered to the combined French and American forces serving under the command of General George Washington at Yorktown in 1781. Virginia joined the Union in 1788.
Along the western and northwestern regions of Virginia lie the Blue Ridge Mountains. The state's highest peak, Mount Rogers at 5720 feet, is found there. The Blue Ridge Mountains, part of the Appalacian range, gradually give way to the Piedmont which takes up much of central Virginia. The area on each side of Chesapeake Bay is known as the Tidewater. The James, the York, the Rappahannock, and the Potomac Rivers are all found in the eastern part of the state and all drain into Cheasapeake Bay, which is open to the Atlantic Ocean.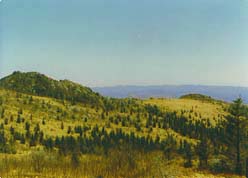 Coal is Virginia's top mineral; cement, stone, gravel, and sand also play an important part in the economy. Many of the nation's shipyards are in the Norfolk area as are a naval shipyard and a key naval base. The state also is involved in food processing, textiles, paper products, chemicals, and electrical equipment. Northern Virginia is home to one of the highest concentrations of information technology companies in the U.S. Agricultural commodities include tobacco, soybeans, corn, peanuts, cotton, sweet potatoes, and apples. Cattle, poultry, and dairy goods are also important.
Over one-half of the Civil War's 4000 battles were fought in Virginia. The world's largest ship building yard is in Virginia as well as the world's longest bridge-tunnel system. The Pentagon has nearly 68,000 miles of internal telephone lines and about 25% of Virginia's population works for the government.
See related information at United States Maps
Browse all the other World Maps.