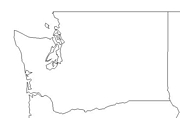 Click for printable map of Washington
(Browse all the other World Maps.)
Map of Washington links to other maps
Downloadable
Blank Outline Map – A printer-friendly document.
Roads – A detailed map of the whole state or regions in PDF documents. Click on "View Map." You can zoom in for a very large scale.
Roads – You can zoom in and print your own maps at a large scale.
Shaded Relief – Can be printed at two different zoom levels (click on the map to zoom).
For purchase
Washington Of Interest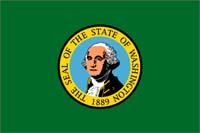 The Spanish explorer, Bruno Heceta, visited the area in 1775 and claimed it for his country. The Lewis and Clark expedition of 1804-1806 stimulated interest, and in 1818 an agreement to a ten-year period of joint occupancy of the Oregon country between the U.S. and Britain was made. Washington became a territory in 1853 and a state in 1889.
Washington's chief commodity is lumber. White and ponderosa pine, spruce, cedar, larch, and hemlock are found on the state's numerous hills and mountains. Cattle and livestock products are important items, as well as halibut and salmon. Agricultural crops are apples, pears, red raspberries, spearmint, cherries, aprictots, asparagus, grapes, potatoes, hops, and lentils.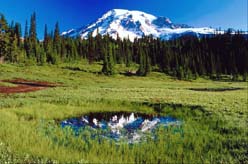 The state's major manufacturing industries are aircraft, ships, chemicals, metals, and machinery. Washington has over 1,000 dams, so its abundance of electrical power enables efficient aluminum production. The dams' other functions are flood control, irrigation, and water storage.
The state of Washington is the only state to be named after a United States president and is also home to the world's wealthiest person. Washington has the world's largest building, Boeing's final assembly plant, and the world's longest floating bridge. The Northwestern most point in the continental U.S. is Cape Flattery.
See related information at United States Maps
Browse all the other World Maps.